Steve Quayle: "15 years ago I came up with a term entitled Reality Avoidance Disorder, and it's playing out every day with the insanity of people willing to take genetic-changing-injections with no concern for their long-term, deadly results. The most sinister form of propaganda has been launched, concurrent with the release of their bio-weapon, COVID-19 (and all its mutagenic spinoffs). The subject of today's ALERT is that for the first time in history, within one week of warning all Q Files Subscribers of the dangers of volcanic ash dimming the sunlight worldwide, we get the story that the ash from Mount Etna in Italy has started precipitating out over the Great Lakes of North America. We are now watching the Living God's fingerprints upon the end time events rushing upon this world at a pace that not even prophecy teachers would be able to keep up with. Famine, war, pestilence, and plague now are upon us!
One of the most perplexing mindsets that I have ever encountered are those professing evangelicals that fail to see that things aren't as they've always been. The entire food chain of the planet is under attack, and that, quite candidly, is difficult to embrace intellectually, let alone emotionally! As I am writing this tonight March 14, 2021, multiple fronts of war are manifesting in both the Ukraine, Middle East and the South China Sea, and that's just for starters. Global volcanism, and its ramifications upon the weather systems of the planet, are somehow being left out of all their bogus, non-scientific discussions. Their so-called 'global warming' is little league compared to the acidification of the planet's oceans (due to an increase in sulfur dioxide emissions from all of the volcanoes erupting). And it's not just scientists that don't seem to get the dire nature of the hour in which we live. When discussing the Book of Revelation, most claimants to Christianity seem to think that the Four Horsemen of the Apocalypse are just My Little Ponies!
The upcoming virtual conference entitled EXTINCTION PROTOCOLS: Globalist To Initiate Tribulations, couldn't be more accurate as to the script laid out in the Bible, and proclaimed throughout history by God's holy prophets. Jesus warned us and detailed what the end of days will look like, and we brothers and sisters, are all watching it unfold in real-time. His words are no longer in the future tense, but now taking place. I urge all of you to sign up for this virtual conference as it is a window to the future, brought into crystal-clear understanding by some of the most well-informed and faithful people on Earth. The outstanding men and women we've assembled share the primary purpose of helping those with ears to hear. The goal of this event is to save anyone willing to listen from destruction, and to give you an understanding and a battle plan for the days that 'flee so swiftly' before our eyes. Register for EXTINCTION PROTOCOLS today and receive as a FREE bonus instant access to our Cascadia: The Big One documentary, which is a shocking warning of the geological upheaval that will be part of the end-times, that are now happening, in our-times.
Featured EXTINCTION PROTOCOLS Speaker: Gary Heavin and his wife Diane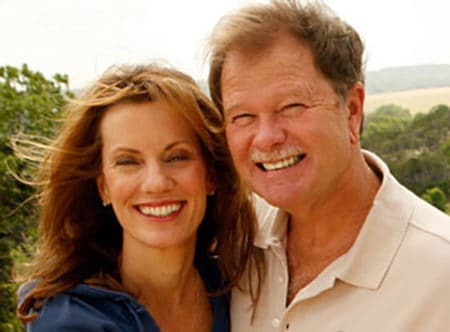 Gary's EP Presentation Title: "Assessing America, Assessing Ourselves and How Now Shall We Live"
Gary Heavin and his wife, Diane are the founders of Curves, the world's largest fitness franchise. Gary is the author of two NY Times bestsellers and the executive producer of the movie Amerigeddon and the new movie Roe V. Wade. Gary and Diane are philanthropists who feed 10,000 children a day in Haiti and have built an orphanage in the slums of Mumbai. Gary holds a Bachelor of Science degree in Health and Nutrition and received an Honorary Doctorate from his Alma Mater, Thomas Edison State University. Most importantly, they are Bible believing Christians who put their faith into action.
Volcanic Ash Plume Drifting Over Lake Michigan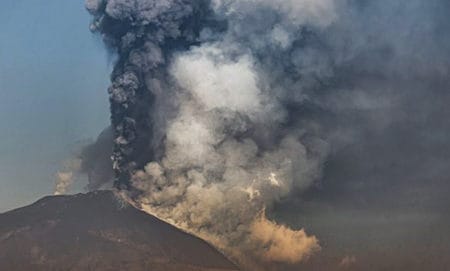 LINK: MichiganVolcano/Article
Science Guy: Report on Volcanic Ash Part I
HELLO STEVE, THIS IS A REPORT ON VOLCANIC ASH AND GASSES AND HOW THEY AFFECT THE LIGHT FROM THE SUN AS WELL AS THE GROUND WHERE THE ASH AND ACID RAIN LAND. FIRST I WOULD LIKE TO EXPLAIN HOW VOLCANIC "ASH" IS VERY DIFFERENT FROM NORMAL ASH YOU SEE FROM WOOD OR CHARCOAL FIRES:
1 "ASH" FROM A WOOD FIRE OR WILD FIRE COATS YOUR LUNGS WITH BURNED ORGANIC MATERIAL.
2 "VOLCANIC ASH" VOLCANIC ASH FILLS YOUR LUNGS WITH BROKEN ROCKS AND GLASS. THIS MEANS THAT VOLCANIC ASH CAN DO A LOT MORE DAMAGE QUICKLY. THANKS TO THE FACT THAT VOLCANIC ASH IS MADE OF SILICA, ONE OF THE MOST DANGEROUS ASPECTS OF BREATHING IN VOLCANIC ASH IS SILICOSIS. THIS HAPPENS WHEN ALL THOSE GLASS SHARDS FROM THE ASH CUT YOUR LUNG TISSUE, LEAVING IT SCARRED. DEEP INHALATION CAN LEAVE PERMANENT DAMAGE. YOU CAN INHALE ENOUGH ASH TO LEAD TO ASPHYXIATION AS WELL, BOTH BROUGHT ON BY THE ASH IN THE LUNGS AND FLUIDS THAT ACCUMULATE AS YOUR LUNGS ARE CUT.
3 ADDITIONALLY VOLCANIC ASH CAN RAIN DOWN ACID RAIN WHICH IS A RESULT OF THE GASES EMITTED WITH THE ASH CLOUD WHICH RISES UP OVER THE VOLCANO.
4 THE OTHER EFFECTS OF THE VOLCANIC ASH TO LIFE AND FARMING ARE AS FOLLOWS:
4.1 THE LARGER ASH PARTICLES WHICH LAND IN HIGH VOLUME IN THE NEAR AREA AROUND THE ERUPTING VOLCANO COME IN 2 FORMS:
4.1.1 ONE FORM IS A FORM OF SHARP GLASS TYPE "ASH" WHICH IS NOT WATER SOLUBLE LIKE ASH FROM A WOOD FIRE THEREFORE THE ONLY WAY TO REMOVE IT IS TO SWEEP AND GATHER IT UP AND HAUL IT AWAY WHICH IS REQUIRED BEFORE PLANTS WILL BE ABLE TO GROW AGAIN.
4.1.2 ANOTHER FORM OF VOLCANIC DAMAGE IS CALLED LAHAR WHICH IS LIKE CEMENT AND WHEN IT LANDS AND DRIES IT IS VERY HARD LIKE CONCRETE AND MUST BE JACKHAMMERED AWAY BEFORE THE GROUND CAN EVER BE USED FOR PLANTING AND FARMING AGAIN
4.2 THE MICROSCOPIC ASH WHICH FLIES HIGH IN THE AIR WITH ITS ACCOMPANYING GASES HAS THE FOLLOWING EFFECTS ON LIFE ON THE EARTH:
4.2.1 FIRST THE GASES REACT WITH THE SUNLIGHT HIGH IN THE ATMOSPHERE AND FORM ACID RAIN WHICH IS DEADLY ALL ON ITS OWN BECAUSE OF THE DAMAGE TO HUMANS AND PLANTS.
4.2.2 THE VERY SMALL PARTICLES OF ASH FROM THE VOLCANO WILL DRIFT IN THE ATMOSPHERE WITH THE FOLLOWING EFFECTS:
4.2.2.1 IT DAMAGES JET ENGINES AND OTHER ENGINES SO THAT TRANSPORTATION IS HALTED FOR A LENGTH OF TIME DETERMINED BY THE AMOUNT OF SMALL SIZE ASH DUMPED INTO THE ATMOSPHERE
4.2.2.2 IT ALSO CAN INTERRUPT THE SUNLIGHT AS IT REFRACTS AND REFLECTS THE LIGHT HIGH IN THE STRATOSPHERE. ASH AT THIS LEVEL CAN CIRCLE THE GLOBE MANY TIME DOING SEVERE DAMAGE FOR LONG PERIODS OF TIME:
4.2.2.2.1 FOR EXAMPLE WHEN KRAKATOA ERUPTED IN IN INDONESIA YEARS AND YEARS AGO THE ASH CIRCLED THE GLOBE AND CAUSED AN ARTIFICIAL WINTER IN PLACES WHERE PEOPLE DID NOT EXPECT COLD WEATHER AND AREAS WHICH HAD COLD WEATHER HAD DEEPER COLD WEATHER BECAUSE THE LIGHT AND INFRARED HEAT FROM THE SUN WAS BLOCKED BY THE ASH FROM THAT ERUPTION.
4.2.2.2.2 MT ST HELENS DUMPED 540 MILLION TONS OF ASH INTO THE AIR IN JUST 9 HOURS.
Volcanic Activity Worldwide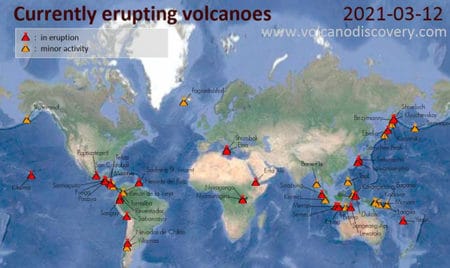 LINK: VolcanoesWorldwide/Article
Etna Volcano News and Eruption Updates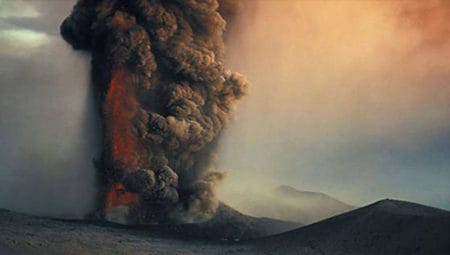 LINK: EtnaVolcano/Article
Precious Metals from Steve Quayle, Your Trusted Source!

LINK: PreciousMetals/Link